How To Use Nutriculate
Antony Allen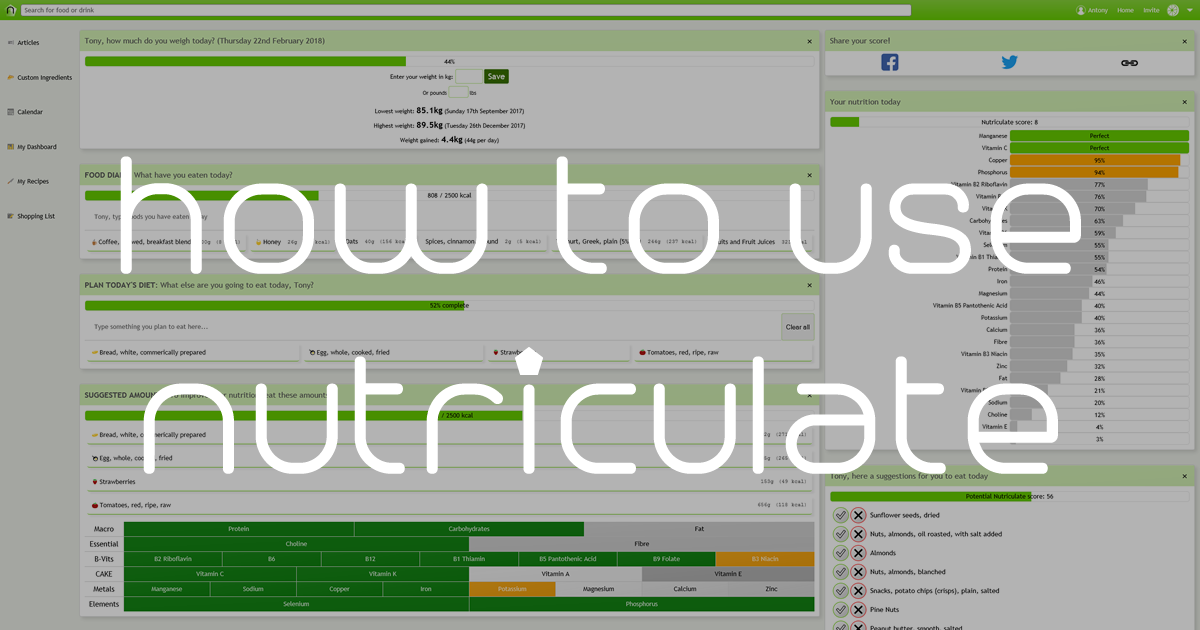 Nutriculate makes nutrition easy for you. Our unique web-app gives you access to your personal nutrition on the go. This article tells you how to use Nutriculate and get the most out of your food, save money, feel better and live longer.

With just a small effort, 5-10 minutes per day, logging what you've eaten can make a real difference to your life. Nutriculate adapts to you, and remembers your choices, portions, meals, etc. to make data entry quicker every time you use it. The easy-to-use interface allows you to discover the truth nutrition, and learn how to get on the path to a perfect balance.


After registering with Nutriculate and logging in for the first time, you will be invited to complete your profile. You'll need to enter your age, gender, height, etc. so we can tailor nutritional requirements to you.


Step 1 - Enter foods to your food diary
Add foods that you've eaten today to your food diary. As you add foods, your nutrition profile will appear, showing you the completion of various nutrients. The main priority is that you should spend 5-10 minutes each day to enter foods that you've eaten. Without this step, you won't gain any insight into your diet, or how to improve. Objective data is key!

Step 2 - Plan your diet
If you want to, you can add foods that you are planning to eat today. The Nutriculator (our unique technology) calculates exact amounts for you to eat, to improve your nutrition. Add more foods, with more variety, so the Nutriculator will bring you closer to your goal of perfect nutrition.

Step 3 - Nutriculate learns and adapts
The more data you enter, the more we can understand about you and your eating habits. We provide real-time suggestions of foods for you, using a combination of your favourite foods, your frequently eaten foods, and those in your store cupboard. We also allow you to hide complete food groups, or specific foods that you want to avoid. For example, we won't recommend meat products to vegetarians!

Step 4 - Weight loss
If your goal is to lose weight, Nutriculate helps you here. Use the weight diary facility to record your weight each day, so we can calculate your exact calorie requirements, and bring you closer to your goal. You'll also be able to view graphs showing your weight loss and keep motivated. Remember, losing weight takes effort, but with Nutriculate you can do it the healthy way - without feeling like you're going to starve.

Step 5 - Cut out supplements
We show you how to get perfect nutrition daily. Therefore, expensive nutritional supplements become irrelevant. Have you been told you've got an iron deficiency? Or perhaps lacking in Vitamin B12? With Nutriculate it becomes simple. We can show in one click which foods, applicable to show, contain high concentrations of a given nutrient, so you can easily add them to your planned foods, and view your perfectly balanced diet in just a few seconds.



Like everything in life that is worth doing, it requires some effort. To eat great food at home, you have to spend time with preparation. To lose weight, you need to curb your hunger and make smarter choices. To be healthier, you need to consider the nutritional value in what you eat and drink.


"Garbage in, garbage out"
Without understanding what we eat, or simply by 'guessing', we don't know what we don't know. More than half of all adults underestimate their calorie intake, and almost all adults have serious nutritional deficiencies. During our 20s, 30s and 40s, they may not show, but later manifest themselves as severe conditions. Cancer, dementia, depression; to name but a few conditions which can be partially avoided through perfect nutrition.


Make a change to your life today. Start Nutriculating, and feel the difference within just a few days. As you approach a Nutriculate Score of 100, you will start to feel the real benefits in your mind and body.
Nutriculate Ltd